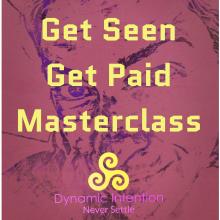 This MasterClass deals with certain dormant genes which are directly affecting your visibility, impact - ability and wealth channels. In it i channel my own higher knowledge and wisdom of the genetic energetic causes and effects around these subjects as well as using my specialist and highly individuated unique singular work to clear certain seals, restructure energy and activate that which is necessary in order to powerfully open up your greater understanding of yourself, your abilities and the business that you are here to build in order to make the greatest positive impact on both your own well being including wealth and joy, and that of the planet.
The class was run in such a way that all who buy the recording and listen will receive the benefits of the work contained within, and it is individually tailored so that each person who receives will get EXACTLY what they need, because I am extremely advanced in the way that I do digital recorded work.
One of the participants has written a review to give you some idea of how powerful this class is:-
'I have recently received MC Get Seen Get Paid: Wow, what a Blast! Left me feeling Fantastic and Whole.
During the class I felt my energy shifting, shit being released and the sense of being more aligned with inner me.
At the Grail activation I 'saw' myself in a previous lifetime and was given understanding as to where my strengths are and how I operate as a person and how I can choose what skills to use and for what purpose.
The Silverline blew me away - it felt like a massive chunk of energy was moved or rearranged and I immediately felt more expansive as an energy body and more clearer as to the inner me. I received a deep understanding as to how vital my producer/ inventor/ organiser skills are for the collective and was given a picture of myself concentrating on my strengths to greater effect. I was freed of my old need to try and do everything - I saw a web of others using their own strengths and me as a part of that web.
Thankyou Ellyssa I feel so much inner strength, aligned, rooted; and expanded in a clearer more concentrated form.'