This soup is light, fresh, incredibly tasty and very healthy (it's a great source of both beta carotene otherwise known as Vitamin A, and Vitamin C). It's an ace way of using up a glut of carrots from a veg box delivery and takes very little time to make from scratch.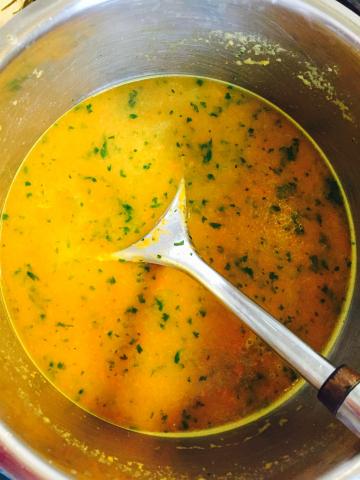 Ingredients:
10 or so medium sized carrots
1 medium yellow onion
1 tablespoon ground cumin
1 tablespoon ground coriander
1 tablespoon organic virgin coconut oil
Black pepper
2 litres hot well-seasoned Chicken Stock
Zest of one orange
Juice of four oranges
Large bunch fresh coriander
Method:
Peel and slice the onion, and then peel and chop the carrots into rounds approx. 1cm thick. Melt coconut oil in a large pan over a medium heat and gently sauté the onions in the oil. After a couple of minutes, add the carrots and stir, leaving them for a minute or two to sweat them off. Then add the ground cumin and ground coriander, stirring well, and a good grind of black pepper, along with the orange zest. Now add the chicken stock and bring to a simmer, leaving it to do its thing until the carrots start to soften (about ten minutes). Once you are happy that the carrots are soft enough, turn the heat off and blend the soup in batches in a conventional blender, adding the fresh coriander and the orange juice in to the blender, or use a stick blender on everything. There you go, done! Now serve in bowls with warm crusty bread unless you're like me and try to avoid gluten.