This is a wonderful fresh tasting, spicy indian dinner which will happily feed at least four people and is perfect for an autumn evening with friends. The spices used in Indian cooking have many health benefits and liven up even the most basic of ingredients. The recipe obviously involves three dishes which you could happily separate and pair up with other things if you wish. If you're veggie simply leave out the chicken. If you're vegan don't bother with the paneer (you could always use plain tofu instead if you wanted a protein source in the curry as a replacement for the paneer, or alternatively a can of chickpeas). I've always been a firm believer in not following recipes to the letter - food is great to experiment with. When I look at cookery books I use them as inspiration and then go on to create my own thing with twists that suit me. Don't be afraid to do this yourself, this is how you get better at cooking (and how I learned in the first place). I've listed the ingredients together if that makes any sense. The first part is for the chicken, the second for the curry, and the third for the rice.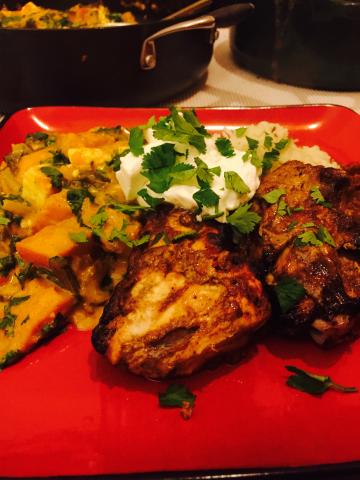 Ingredients:
For the Chicken
1 whole organic free range chicken
500g pot of greek yoghurt
good slug of olive oil (NOT extra virgin) (approx 50 ml)
water
2 cloves garlic crushed
2 inch piece of fresh ginger root, peeled and then half sliced, half grated
approx 4 heaped tablespoons of good garam marsala
2 heaped tablespoons of ground cumin
2 heaped tbsps ground coriander
2 tsps ground cinnamon
2 tsps ground nutmeg
2 tsp sweet smoked paprika
1.5 tsp sea salt
good grind of black pepper
To make the paneer:-
4 pt (2.27litres) organic whole milk
Juice of two freshly squeezed lemons
For the curry:-
2 tbsps coconut oil
i large onion, finely chopped
Fresh Chillies - 1 red and 1 green, both chopped
2 cloves garlic crushed
I medium size butternut squash, peeled, deseeded and chopped into roughly one inch cubed pieces
4 tbsp ground cumin
3 tbsp ground coriander
1 tbsp ground turmeric
750g fresh ripe plum tomatoes
1 can rich coconut milk
2 tbsp tomato puree
good pinch of salt
black pepper
200g bag of spinach leaves, washed and chopped
big bunch of fresh coriander leaves, chopped
For the Jeera Rice:-
300 (ish) grams basmati rice, washed thoroughly and drained in a sieve.
2 or 3 tbsp whole cumin seeds
water
salt
Method:
To prep the chicken: Take a sharp knife and joint the chicken. This is easier than it sounds. If you really can't be bothered to do this then simply swap the whole organic free change chicken for a selection of ready jointed pieces from your local butchers, skin still on. If you do this though, you won't get the added benefit of making a lovely homemade stock with the bones afterwards. If you are taking the longer (but ultimately more satisfying) route, I would advise you to remove the legs and wings first, then the breasts. Once you have done this divide the legs into the thighs and drumsticks, and cut the wingtips off to go into your stock pot with the rest of the carcass remnants. Put the pieces in a large zip lock freezer bag and put to one side. Take a jug and mix the yoghurt and oil with all of the dry ingredients, stirring well and then add enough water to make the marinade easier to pour into the bag. Once it is thoroughly mixed and you're happy with the consistency, pour the marinade into the freezer bag with the chicken, then seal it and massage it so that the marinade thoroughly coats every piece of chicken. Then put this to one side to marinade for approx 4 hours. Next make the paneer. Do this as soon as you have put the chicken to one side to do it's thing. Get a large saucepan and pour all of the milk into it. Place it on a high heat and bring it to the boil, keeping a watchful eye on it. once it is at boiling point, remove from the heat and add in the lemon juice, then place back on a lower heat and stir well with a wooden spoon, until it separates fully into curds and whey. Turn the heat off, take a colander or a large sieve and place it in your kitchen sink, lining it with a large piece of muslin (you can buy muslin 'nappy squares' from John Lewis or Wilkinsons. The John Lewis ones are great quality and will last many many washes). Now take your pan and tip the contents into the muslin that is lining the sieve or colander. You'll want to leave it to drain and cool down as it's HOT at the moment. Once it is cool enough to handle, gather up the ides of the muslin with your hands and give the curds inside a good squeeze, then tie or secure the 'bag' loosely and place on a board with a flat heavy weight on top (I like to fill a heavy casserole dish with water an put the lid on then use this. Leave to compress for 3 or 4 hours. When it comes to time to start putting it all together, preheat the oven to 200 degrees celsius, then place the butternut squash pieces in a big enough ovenproof dish that there's space between all of the pieces. coat with a dash of olive oil and sprinkle with 1 heaped tablespoon of ground cumin and a sprinkle of salt, then put in the oven to roast for approx half an hour or until it softens. When it's done take out of the oven and put to one side. Next take the chicken pieces out of the bag and place them in a roasting tray, leaving the bulk of the marinade in the bag (which you then chuck). Bake the chicken in the oven for approx half an hour or so whilst you make the curry. To make the curry take a large saute pan or something similar with a wide flat base that's at least 3 or 4 inches deep. melt the coconut oil, and then add the chopped onion garlic and chillies, Fry these until they soften and the onion goes translucent (about 10 minutes or so). Next add the spices and stir well with a wooden spoon. Once you have done this, take a large grater and grate the tomatoes into the pan, discarding the leftover skins. Allow the tomato pulp to reduce down a little once you've finished grating, then add the roasted butternut squash that you cooked earlier, and then the coconut milk. Take the paneer out of it's muslin and cut into cubes, then add to the pan with everything else. add seasoning and tomato puree and stir well. When the curry is bubbling, stir in the washed chopped spinach, and turn the heat right down, putting a lid on it. For the rice, take a heavy bottomed saucepan or casserole that also has a close fitting lid (which won't be needed quite yet) and place it on a medium heat. You are now going to toast the cumin seeds by adding them to the dry pan and stirring so that they receive even heat. they will start to smell wonderfully fragrant. At the point where they are really starting to kick out their wonderful aromas, add the drained washed basmati rice to the pot and then add enough water so that it comes up to your thumb knuckle joint when you place the tip of your thumb on the top of the rice in the pan. Turn the heat up high, add salt, and leave the rice to cook with the lid off until the water has made holes in the surface of the rice and is below the level of the rice. When this happens turn the heat to the lowest setting, put the lid on the pan and set a timer for ten minutes. The rice is done when the timer goes off. You can take it off the heat and leave the lid on for the rice to fluff up further. It is a good idea to get the rice on at about the same time that you start frying the onions for the curry. that way the timing should work out just about perfectly. Take the chicken out of the oven, sprinkle fresh chopped coriander on the curry, serve and enjoy. I like to serve this with a dollop of yoghurt on top and some hot lime pickle on the side (which i am lazy and get out of a jar. There is no shame in this ;) )